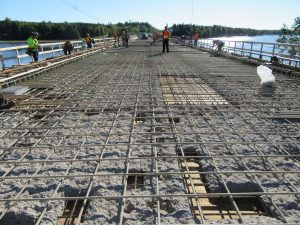 Structural Rehabilitation
AUS has successfully completed structural rehab projects all over the Maritimes.  As a specialty repair contractor, AUS is not limited to a single concrete repair method; our experience and expertise combine specialized and conventional concrete repair methods to provide the most practical solution for all concrete repair projects.
From a small concrete repair to a multi-faceted full scale restoration project, AUS can assist with preliminary tasks such as problem identification, concrete repair options and budget pricing to completion of the repair improving the safety and functionality of the structure for years to come.  From parking garages to bridge decks and everything in between AUS is a qualified and efficient contractor to meet your needs.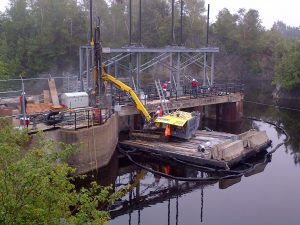 Anchors
Installing Rock Anchors including consolidation grouting, water testing, post grout installation and performance and proof tensioning are operations that AUS performs on a regular basis.  This highly detailed operation of actively transferring loading between the anchored structure and its underlying rock mass, thereby lowering the structure's centre of gravity is in AUS' wheelhouse of specialized capabilities.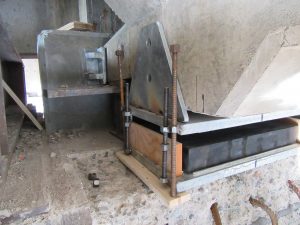 Grouting
Grouting's extraordinary number of uses make it one of the most important and specialized fields in the construction industry. AUS's grouting expertise is demonstrated by the fact that it has more than a dozen different pumps to handle specialized grouting work. AUS itself has pioneered the pumping of fibre-reinforced grout. Some of the other grouting work undertaken by AUS includes
Leveling Slabs at Grade
Tremie Injection Underwater
Post Tensioning Systems
Grout Curtains Void Filling
Dam Repairs
Historic Preservation
Ground Stabilization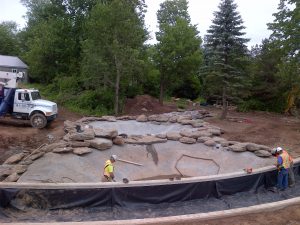 Shotcrete
The strong, dense and flexible characteristics of shotcrete are widely known to industry and is the reason AUS has been using shotcrete for more than thirty five years.
Shotcrete saves time and money because it eliminates form work, reduces excavation and backfilling, and uses less material as a result of its increased compressive strength and elasticity. Shotcrete is also less porous than traditional concrete, giving it greater versatility in wet application and
making it more flexible to original designs and more amenable to on-site changes. Shotcrete can be used in a wide range of applications, from restoration and top-coat constructions to general protection and preservation work. AUS has used Shotcrete in:
Environmental Protection Applications
Canals and Flumes
Reinforced Concrete/Masonry Restorations
Lagoon and Water Basins Pipe Linings
Bridge Sub Structures
Concrete Shells
Rock Stabilization
Pools
Specialty Coatings
AUS's desire to protect our clients' investment led to our direct involvement in the specialty coatings field over 25 years ago. AUS's expertise and access to a wide variety of products from the leading manufacturers throughout North America and Europe allow us to provide your projects with protection from acidic, abrasive, electrolictic and temperate environmental conditions.
AUS has worked with a range of cementious, plastic and polymer based coatings in a wide spectrum of environments. AUS wants your investment to stand the tests of time and as a result we have pioneered the applications of coatings in activities such as gunning, pumping, pouring, spraying and trowelling to ensure full protection.
Waterproofing
Another specialized operation that AUS undertakes is Waterproofing.  From roll-on products to trowl on and peel and stick, AUS ensures that the application is completed according to spec and with the utmost attention to detail.
Surface Preparation
Levelling a concrete floor and prepping it for further treatment is a service that AUS undertakes for its Industrial and Commercial clients.  Be it a warehouse floor or a bridge deck, specialized equipment is used to profile the surface and make it ready for construction coatings.
Structural Plate Pipe
Ranging in size from just a few meters to more than 20 meters, structural plate pipe has gained a reputation for dependability, strength and trouble free service. Its ability to be custom fabricated only adds to its versatility. The use of structural plate pipe by Atlantic Underground Services reflects the diverse needs of our clients. AUS used structural plate pipe when it installed the liner in a 22-meter wide highway interchange. It has also used structural plate pipe in installing culverts for highway and railway crossings, for underpasses for pedestrians and livestock, service tunnels, storm and sanitary sewers, and in the lining of older tunnels that have deteriorated.