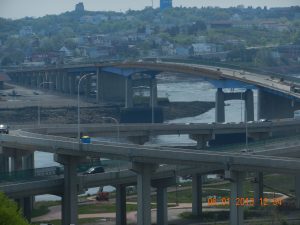 Saint John Harbour Bridge –
The Saint John Harbour Bridge, with the size and scope required, AUS manned up to a crew of over 200 men for the season in order to complete the project on schedule.  The job involved complete structure rehabilitation including deck removal, the replacement of 37 expansion joints, removal and replacement of the overhangs and barrier walls over a busy sea port on one side and a city park on the other.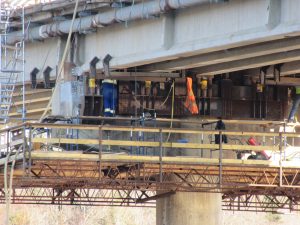 Southwest Miramichi River Bridge No. 4 (Doaktown) –
Structure over a sensitive fishing area on the Miramichi River, AUS built and installed a complex access system in order to replace the bridge bearings over the river portion of the structure.  This multi-year project was challenging due to the height of the structure over water and the complexity of the jacking system.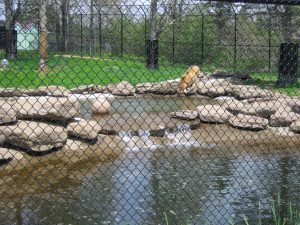 City of Moncton Tiger Pools
The shotcrete process involved in this project was one of artistic nature where ponds were excavated and shotcreted and armour rock placed to create a comfortable living space for the new tigers arriving at the City of Moncton Zoo.
Grout Curtain – Turtle Creek
When the most recent earthen dam was built in our area AUS was subcontracted to install the grout curtain.  This was done to mitigate the seepage through the reservoir in order for the City of Moncton to have a sufficient supply of water for the forseeable future.
Parking Garage Rehabilitation – King Square
When the King Square parking structure was closed due to concerns over large movement, AUS was retained to help resolve the issues.