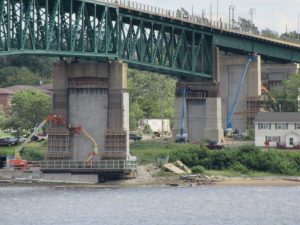 Rehabilitation of Miramichi River Bridge No. 1, Miramichi NB
Department of Transportation and Infrastructure contracted AUS to complete seismic upgrades to a 50+ year old structure (Centennial Bridge). Concrete repairs to 8 Piers were carried out over a two year period which will extend the life and bring it's structural integrity up to current standards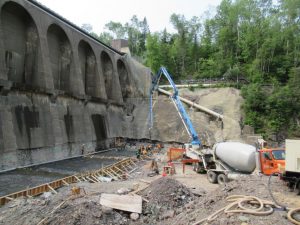 Rehabilitation of Charlo Dam, Charlo, NB
AUS completed concrete repairs to the Charlo Dam on behalf of Regional Development Corporation in 2018. This project involved excavation on the downstream end and construction of a new stilling basin.
On the downstream face of the dam, concrete restoration and installation of steel wear plates was conducted.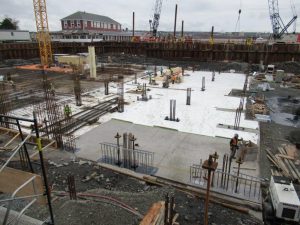 Waterproofing Queens Marque, Halifax NS
AUS completed waterproofing for the levels below water elevation for the new Queens Marque facility in downtown Halifax NS. The majority of this work was carried out during the winter months which created its own challenges for completion of this type of work.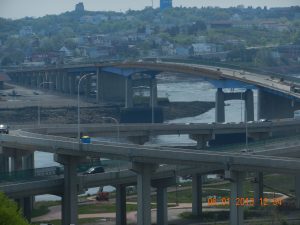 Saint John Harbour Bridge –
The Saint John Harbour Bridge, with the size and scope required, AUS manned up to a crew of over 200 men for the season in order to complete the project on schedule.  The job involved complete structure rehabilitation including deck removal, the replacement of 37 expansion joints, removal and replacement of the overhangs and barrier walls over a busy sea port on one side and a city park on the other.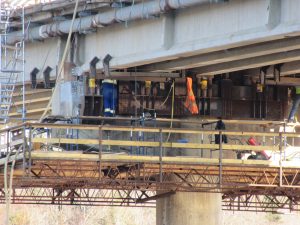 Southwest Miramichi River Bridge No. 4 (Doaktown) –
Structure over a sensitive fishing area on the Miramichi River, AUS built and installed a complex access system in order to replace the bridge bearings over the river portion of the structure.  This multi-year project was challenging due to the height of the structure over water and the complexity of the jacking system.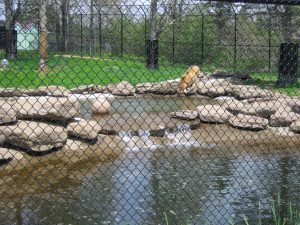 City of Moncton Tiger Pools
The shotcrete process involved in this project was one of artistic nature where ponds were excavated and shotcreted and armour rock placed to create a comfortable living space for the new tigers arriving at the City of Moncton Zoo.
          Further Past Projects 
Saint John Harbour Bridge – Bridge Rehabilitation
Tower Road Dam – Void Grouting & Rock Anchors
Hawkshaw Bridge Pier – Void Grouting and Bridge Pier Strengthening
Aroostook Trail Bridge – Timber Bridge Repair
Lewisville Skatepark – Shotcrete, Form and Pour Concrete
Wheeler Blvd Pedestrian Tunnel – Shotcrete, Culvert Relining
Reversing Falls Bridge – Shotcrete, and Rock Anchors
DECRH South Addition – Shotcrete and Rock Anchors
Carleton-Sewell Parking Garage – Shotcrete and Rock Anchors
Magnetic Hill Zoo Tiger Pools – Shotcrete
Magnetic Hill Zoo Otter Pool – Preparation and Coating 
City of Moncton Salt Dome – Shotcrete
City of Moncton Water Fountain – Pool Coating
City Of Moncton Riverfront Boardwalk – Helical Piles and Precast Placement
St. George Dam – Rock Anchors, Steel Armouring and Concrete Repairs
Riverglade Culvert – Pipe Threading and Controlled Low Strength Material Placement
CFB Halifax Crane Rail – Precision Epoxy Concrete
Windsor Rail Road Overpass – Multi Plate Structure
Westmorland Street Bridge – Bridge Deck Waterproofing
Petitcodiac River Bridge – Grouting
Centennial Building – Fibre Reinforced Polymer Wrap
Kirkland Lake Gold – Fibre Reinforced Polymer External Reinforcing
Beechwood Dam – Confined Space Concrete Repairs
Charlo Dam Rehabilitation – Concrete Repairs and Shotcrete
Hawkshaw Bridge – Bridge Rehabilitation, Expansion Joints and Coatings
Miramichi River Bridge No. 1 – Bridge Pier Rehabilitation
Southwest Miramichi River Bridge No. 4 – Bridge Rehabilitation, Bearings and Fiber Reinforced Polymer External Reinforcement
Eel River Bar Bridge No.1 – Bridge Rehabilitation
Milford Haven Bridge – Bridge Rehabilitation
Grout Curtain – Turtle Creek
When the most recent earthen dam was built in our area AUS was subcontracted to install the grout curtain.  This was done to mitigate the seepage through the reservoir in order for the City of Moncton to have a sufficient supply of water for the foreseeable future.
Parking Garage Rehabilitation – King Square
When the King Square parking structure was closed due to concerns over large movement, AUS was retained to help resolve the issues.